Description
Made from rustic grape varieties dominated by Carignan and Grenache, flavoured with a hint of Syrah, this atypical wine, as wild as the nature of the Corbières Massif, invites you to discover it.
To be served at room temperature with stew, cassoulet, lamb mice.
ORIGIN: this product is made in Bizanet, less than 50 km from the Moulin du Vivier, French production.
LABEL: PDO
INGREDIENTS :Carignan, Grenache, 13% alcohol.
ALLERGENS: sulphites
PACKAGING: 75 ml in a glass bottle.
STORAGE: store in a dry place, after opening, keep refrigerated.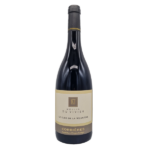 AOP Corbière red
8,80

€
199 in stock